Fall Inspired Cocktails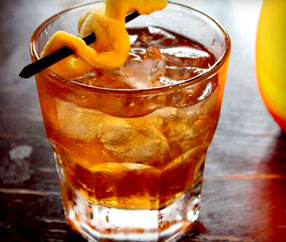 It's beginning to feel a lot like Fall and what better way to celebrate than throw a cocktail party! And, every successful cocktail party should have a themed drink. Here are some ideas for Fall/Halloween themed cocktails that are sure to impress any crowd. If you're not feeling in the party mood, just make one for yourself to get you in the Fall spirit!
SMASHING PUMPKIN
October isn't complete without a few pumpkin-infused cocktails. Celebrate the seasonal squash by turning it into a homemade lemon-pumpkin soda, then combine with rum and allspice liqueur for a festive drink that party guests will love.
INGREDIENTS
Pyrat Rum 1.5 oz
Allspice Liqueur .5 oz
Lemon-Pumpkin Soda 3 oz
Add the rum and allspice liqueur to a Collins glass filled with ice. Top with the Lemon-Pumpkin Soda and garnish with a bay leaf.
MAZANASADA
Capture all of autumn's comforting flavors in this party-ready tequila cocktail. Featuring mezcal and apple cider, the subtly smoky combo is topped with bubbly ginger beer and cubes of fresh red apple. Plus, a spiced sugar rim adds hints of cinnamon, nutmeg and ancho chile powder.
INGREDIENTS:
Spice Sugar 1 oz
Tequila .5 oz
Mezcal 1.5 oz
Apple Cider .75 oz
Lemon juice
Ginger beer
Coat the rim of a Collins glass with Spiced Sugar, fill with ice and set aside. Add the tequila, mezcal cider, and lemon juice to a shaker, and fill with ice. Shake and strain into the prepared glass. Fill with ginger beer and garnish with a diced red apple.
MAPLE OLD FASHIONED
Even classics like the Old Fashioned need an autumnal upgrade when the weather turns cool. Pilfer a little maple syrup from your pancakes and shake the sweetener with dark rum and Angostura bitters, then serve in a chilled cocktail glass.
INGREDIENTS
Dark Rum 2 oz
Maple Syrup .5 oz
Angostura Bitters 2 dashes
Add all the ingredients to a shaker and fill with ice. Shake and strain into a chilled glass.
HARD CIDER SANGRIA
Instead of wine, this juicy sangria is made with hard cider spiked with lemon juice and apple brandy.
INGREDIENTS
1 cup quartered and thinly sliced unpeeled green, yellow and red apples
1 navel orange - quartered and thinly sliced crosswise
1 cup apple juice, chilled
2 tablespoons fresh lemon juice
1/4 cup apple brandy
One 22 oz bottle hard apple cider, chilled
Ice
In a pitcher, combine the apples with the orange, apple juice, lemon juice and brandy. Just before serving, add the hard cider. Serve in tall glasses over ice.
AMBERJACK
Mixing beer like the apple lambic here into a cocktail may sound like a new trick, but old cocktail books are filled with beer concoctions. Lambics are Belgian beers that are fermented with wild yeasts.
INGREDIENTS
Ice
1 oz Apple Vodka
1/2 oz Macallan Amber
1/2 oz Calvados
1/2 oz Fresh Lime Juice
1 1/2 oz Chilled Apple Lambic
1 Thin Green Apple Slice
Fill a cocktail shaker with ice. Add the vodka, Macallan Amber, Calvados and lime juice; shake well. Strain into a chilled martini glass, stir in the lambic and garnish with the apple slice.
Hopefully you will be able to find just the right occasion to try out some of these recipes. Happy Fall!