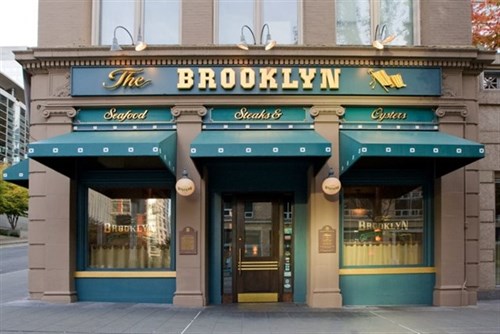 **Prices and specials are subject to change at any time
Happy Hours
Everyday - 4:00 PM thru 6:00 PM
Featured Special
Food$3-$6 Menu Specials
Drinks$3 Domestic Beer, $4 Microbrew and Wines, $5 Selected Call Cocktails
Drinks$6 Martini or Manhattan, $7 Daily Contemporary Cocktails,
The Brooklyn Restaurant is located in the historical landmark Brooklyn Building. This site was chosen for its central location in Downtown Seattle. Join us for the freshest ideas in Northwest Cuisine! Enjoy fresh seafood delivered daily, the largest rotating selection of fresh oysters in the city, 28-day aged beef and a delicious selection of signature desserts.
More Happy Hours
Everyday - 4:00 PM thru 6:00 PM
Food$3-$6 Menu Specials
Drinks$3 Domestic Beer, $4 Microbrew and Wines, $5 Selected Call Cocktails
Drinks$6 Martini or Manhattan, $7 Daily Contemporary Cocktails,
Report Inaccurate
Location Info
The Brooklyn Seafood, Steak & Oyster House
Restaurants in Downtown
1212 2nd Ave
Seattle
,
WA
98101
USA
206-224-7000
Hours of Operation
Monday thru Friday 11 am to 3 pm and 5 pm to 10 pm
Saturday 4 pm to 10 pm
Sunday 4 pm to 9 pm

Other near The Brooklyn Seafood, Steak & Oyster House