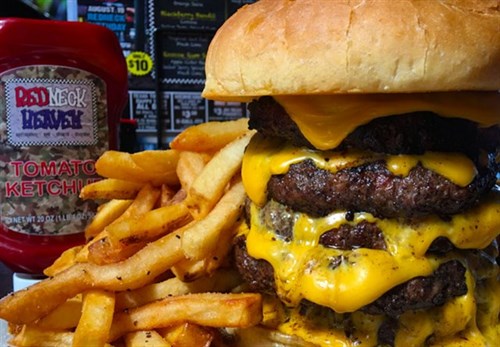 **Prices and specials are subject to change at any time
Happy Hours
Everyday - 2:00 PM thru 7:00 PM
Featured Special
Drinks$2 Pints, $2 Wells, $2 Wines
Food1/2 Price Appetizers
So how is Redneck Heaven different? We live by the mantra, "Have Fun, Make Friends, Make Money, Repeat." Understand that this is not just the mission for me personally, but for all the dedicated employees that make Redneck Heaven the place it is today and every day. The greatest power and key to our success is to have fun! When our guests visit Redneck Heaven, they know that all of the stress is left at the door.
The bar is full of regulars singing along to their favorite songs. A Redneck girl who knows their name has already ordered their favorite beer. The music is just loud enough to drown out that stressful voice inside their head. The Dixie horn is blaring, Minnow Bombs are flying and everyone is cheering. Redneck girls are goofing around, riding bikes, hoola-hooping, and line dancing; doing everything to put on a show and help the guests forget about the real world. People go where they are comfortable and that place is Redneck Heaven!
More Happy Hours
Everyday - 2:00 PM thru 7:00 PM
Drinks$2 Pints, $2 Wells, $2 Wines
Food1/2 Price Appetizers
Tuesday - 10:30 AM thru 2:00 AM
Food1/2 Price Appetizers All Day!
Report Inaccurate
Location Info
Redneck Heaven
Bars in Arlington
701 N Western Rd
Arlington
,
TX
76011
USA
817-855-0100
Hours of Operation
Daily 10:30am-2am

Other near Redneck Heaven