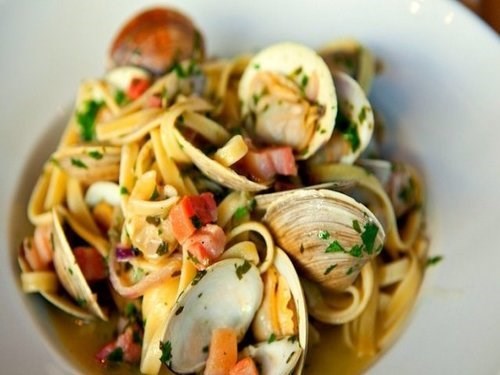 **Prices and specials are subject to change at any time
Happy Hours
Monday thru Friday 5:00 PM - 7:00 PM
Featured Special
Drinks2 for 1 Mojitos, Margaritas, and more!
George's is an Italian restaurant located in the heart of North Beach, FL. Owned and operated by George and Elizabeth Iglesias, a brother and sister combo that bring a whole new name to family operated businesses. They have been open for ten years, all of which have been at the same location. George's main goal is to provide quality, good service and great food, which can only be why they are so immensely popular with the locals. The food is always fresh, made to order and speaks for itself. The pasta, bread, pizzas and desserts are all made from scratch. Even the lemoncello is home made. Come in and enjoy the $10.95 daily lunch menu. Aside from the lunch bargain, George's also offers a variety of specials fit to accommodate even these harsh economic times. They even offer a carry out and delivery service so that customers can enjoy great food right from the comfort of their own homes. If in search for a place to host that special event, George's has remarkably sophisticated private rooms at affordable prices. The dark polished wooden panels and bar in addition to the dim, candle lit lighting all create a romantic atmosphere that is ideal for couples. The proximity to the ocean, and the beautiful outside seating, help create a romantic setting even before one walks in. Although Georges is a great place for a date, it is equipped with a full bar, extensive wine list and alfresco seating for a fun night with friends. With public parking across the street, it is assured that
More Happy Hours
Monday thru Friday 5:00 PM - 7:00 PM
Drinks2 for 1 Mojitos, Margaritas, and more!
Report Inaccurate
Location Info
George's Restaurant & Lounge
Restaurants in North Beach
300 72nd St
Miami
,
FL
33141
USA
305-864-5586
Hours of Operation
Monday thru Saturday 12 pm - 12 am
Sunday 12 pm - 11 pm

Other near George's Restaurant & Lounge